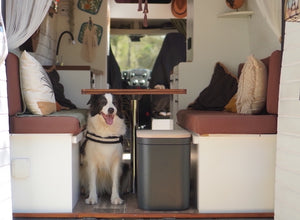 Trelino B2B for van builders, upfitters & wholesalers
Are you a van builder, upfitter or a wholesaler in the camping & outdoor space and want to offer your customers something exciting? Trelino® has a specific program for all types of B2B customers with attractive volume discounts. Fill out the form below and let's talk 😍
Become an official Trelino® wholesale partner
These are Our Awesome Benefits 🙋‍♀️
Value for all
1. The most exciting Toilet for your Customers
We would love your customers to have an amazing experience! We want to contribute to that by providing you with state-of-the-art composting toilets that enable unlimited freedom:
✓ Very good-looking
✓ Ultra Lightweight
✓ Easy to empty
✓ Easy to clean
✓ Affordable
ENJOY VOLUME DISCOUNTS
2. A Great Chance to Make Money
Our Trelino® Composting Toilets are premium designed products made in Germany with a corresponding price.
As our wholesale partner you save with every sale you make & get even higher discounts with more volume.
We are a Team
3. Best in Class Customer Support
We won't leave you out in the rain. Our operations team is always available if you have any questions.
Plus we will actively reach out to you as part of our job to provide you with tips and relevant news.
Spread the love
Join the Trelino family
We would like to declare a sustainable war on chemical toilets and commit ourselves to a modern, mobile separating toilet solution 💩
Are you building or upfitting vans and want to install Trelino® toilets in your van?
This is How You Get Involved:
1. Get in Touch
Tell us who you are, what you do and of course why you want to partner up!
Get in Touch
2. Our Team Advises
We go through your information and have an initial welcome call