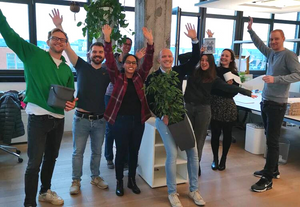 We 💚 non-profit engagement
Social
Equality, integrity and inclusion are more than important to us. That's why we support social projects, regional and Germany-wide.
Ecological
Separation toilets are literally predestined for the responsible use of resources. Besides our products, we actively support sustainable initiatives.
Local
We are a company straight from Düsseldorf's city-centre and want to support other small, local businesses as well as social institutions.#homelove #supportyourlocals
New operational equipment for the Technisches Hilfswerk e.V.
Floods, destructive storms and all-time rain records in summer 2021 did not leave a single second of rest  for the Technisches Hilfswerk e.V.
Together with Trelino®, we were able to support 4 local charities with a separation toilet. So, the volunteers no longer had to do without a toilet during long assignments.
- August 2021 -
Quick help for the flood region in the Ahr valley
Until today, the immense destruction of the flood in the Ahr valley is incomprehensible. Entire towns were almost completely wiped out, while streets and basements in the immediate vicinity were completely flooded. In combined strength with many others, we supported Aktion Deutschland Hilft with an immediate and non-bureaucratic donation.
- September 2021 -
Toilet donation for residents & aid workers
For many people, the flood catastrophe also meant the complete collapse of sanitation and water supplies. This not only affected the residents, but also numerous voluntary helpers who came to give direct aid on site in the Ahr Valley. Together with Trelino®, we donated 30 urine-diverting toilets as fast as possible. Only three days after the disaster, they arrived exactly where they were desperately needed. 
- August 2021 -
One good deed every day
During the Advent period, we supported 24 social and ecological projects with a donation to 24-Gute-Taten e.V. targeting after-school care for children from socially disadvantaged areas, support of traumatized children from war-torn regions and afforestation.
- November 2021 -
The Good Roll - The toilet paper that builds toilets
Round about 33% of the world's population don't have access to toilets with a safe hygienic standard. The Good Roll donates 50% of their net profit to building toilets in Africa! Our opinion: great choice. That's why we're teaming up with The Good Roll and work together on the project.
- July 2021 -
Goldeimer toilet paper - the social toilet paper
As a 100% subsidiary company of Viva con Agua, all profits from the toilet paper flow into educational work, promote sanitation projects and support Welthungerhilfe. By offering the product in our shop, we not only make this world a better place with urine-diverting toilets, but also with the matching toilet paper.
- February 2021 -
Like ass on bucket - The WfaA & Camper Active GmbH
The whole fabrication process of Trelino® is rooted in Germany. We have therefore chosen the WfaA as a local partner. With full commitment, they are the ones who make this project possible. Our lids, washers and the screw caps for the urine canisters are produced in their workshop for people with disabilities and handicaps. 
- November 2020 -
A glimpse of hope for the STERNTALER Düsseldorf e.V.
Children need a strong lobby. Kids can only learn and develop their personality if they are brought up in a light-hearted environment. Together with Sterntaler e.V. in Düsseldorf, we support afternoon care, sports initiatives and many other social institutions for children of all age groups.
- December 2020 -